Lotus.fm builds dynamic, data-driven applications in the spaces of philanthropy, content discovery, and finance.
Bitcoin prices are heating up again and so is the planet. You may be curious about how much of the hype is true. Is cryptocurrency really a major carbon offender? How do the different coins stack up?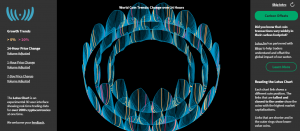 We decided to release a sneak preview of the Lotus Trader software suite ahead of schedule, to give greater insight into these issues. This market trends visualization shows market values for 2058 cryptocurrencies in real time. It also gives you tools to quickly and easily offset your carbon cost. We will be adding further resources and updates throughout the fall.