Somehow or other I managed to convince five very different artists to get on a lineup for a Thursday night for the Lotus.fm™ Launch Party at this great little downtown venue known as The Big Legrowlski. (It's not a big space. If you want to be assured of getting in, come by early.)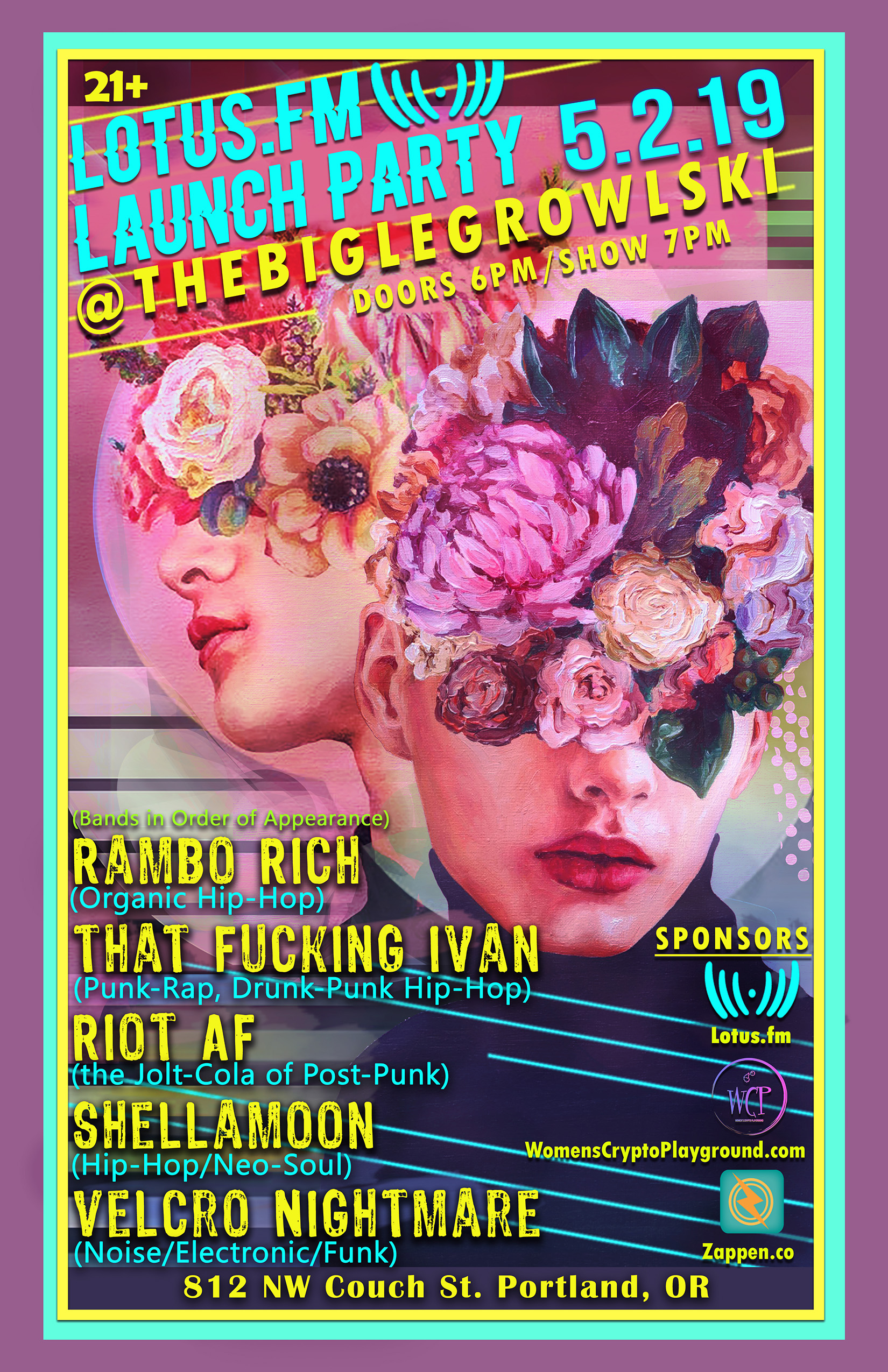 Click the poster image to listen online…
I love this poster, made by artist savant Null NZA. I love that in a single night we are trying to shoe-horn hip-hop with punk with noise/electronica. I love that we have a female hip-hop artist on our bill. The only thing the poster doesn't mention is that Riot AF is rock as well as post-punk: guitar + base + drums. Loud and good. You may not have heard of them until now, but I have to say, all of the men and women who will be performing are quite good.
Why am I so interested in helping artists? Because I am an artist myself. I write and draw comics. Also because several of the most talented artists I know have been homeless or in danger of being homeless in the past three years.
Our artist marketplace, influence.lotus.com launches on May 2. But it's only the beginning. Last week we did a small, informal focus group with musicians to find out what they wanted in technology. It really was a watershed moment. Somebody shared an idea that I hadn't heard before: namely, that you could use custom, limited edition artist-created "badges" to crowdfund small projects such as recording a record album. What is the advantage over existing services? Much lower cost and hassle to create the rewards at each level. Because the badges are something that donors will want to display on their own social media, they will make it easier to market the campaign. Finally, as artists receive a share of revenue, they also have an incentive to promote the campaign far and wide. Assuming we have the resources and can get market validation, we're going to take this idea and run with it.
Have questions? Have ideas? Come and find me this Thursday. I'm glad to talk shop. Just stay for the music. You won't be disappointed. – Rose C.